The Scale Up Shop Program which catalysed Sri Lanka's Food and Agri Innovation ecosystem, has reached a successful conclusion at its Demo Day event on 21st September.
The Scale Up Shop Program, carried out as part of the 'Support to Small and Medium Enterprises in the Organic Agriculture Sector' Programme, is co-financed by the European Union (EU) and the German Federal Ministry for Economic Cooperation and Development (BMZ) and implemented by the Deutsche Gesellschaft für Internationale Zusammenarbeit GmbH (GIZ), in collaboration with the Ceylon Chamber of Commerce, Dilmah Tea, Sri Lanka Export Development Board (EDB), National Innovation Agency (NIA) and Sri Lanka Inventors Commission (SLIC).
The Scale Up Shop sparked innovation in the Sri Lankan manufacturing and export sector by connecting local innovators with manufacturers seeking to expand their product portfolios and enter international markets. The roster of innovative companies that presented their ground-breaking solutions included: Ashen Theekshana from Tilma Berlo, Bhagya Sandakelum and Risaath Balachandran from Blue Fish Ceylon (Pvt) Ltd, Dhanushka Bandara from Nutri Char, Indika Siriwardana from Wild Rabbits Products, Iresha Perera, Akeel Sahan, and Ushani Chanika from Banaroo, Manoja Prasanthi Marasingha from Little Farm Mushrooms, Rifak Ahmed and Mohamed Amzar from Cecrafto (Private) Limited, Sharmen Perera from Celebration Holdings (Pvt) Ltd, Thushara Gunawardhana and Lakshan Dissanayake from Uncle Jack and Vathsan Sharma from TWOMOR Healthy Foods.
The Demo Day provided a platform for them to showcase their products and demonstrate their potential. It was further elevated by the presence of distinguished exporters and manufacturers from the Food and Agri industry.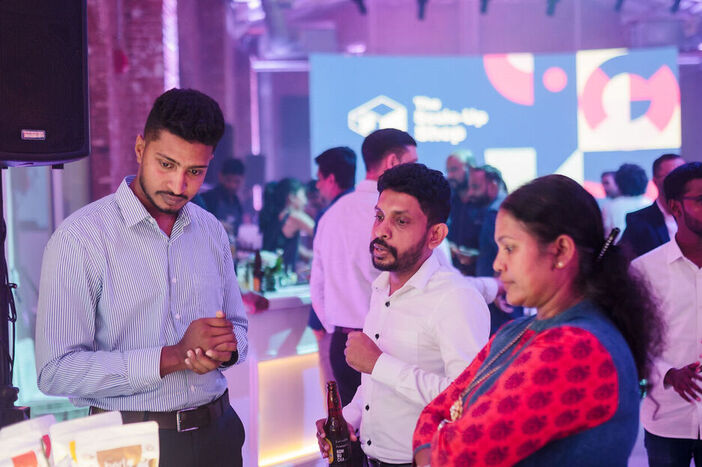 "Our journey as participants in the Scaleup Shop Program was an incredible experience. We had an opportunity to work alongside a diverse group of entrepreneurs and mentors, who provided us with invaluable insights, resources, and support to refine our business. We are excited to take the next steps in our entrepreneurial journey, armed with the knowledge and connections gained through this fantastic program." – said Bhagya Sandakelum, the co-founder of Blue Fish Ceylon.
"It is important for innovators to reach commercialisation and marketability, but to do this sustainably is even more so to inspire future agripreneurs to disrupt the norm and create memorable products. We are proud to support the journey and transformation of these 10 remarkable innovators. We believe that through the Scale Up Shop, each one has been mentored and guided to reach their full potential. "-said Shamodi Nanayakkara, Head of Conservation and Sustainability Dilmah Tea.
"Innovation is vital to bridge the gap between the present and the future, and it's done by those who dare to dream. The Sri Lanka Export Development Board is proud to be a part of this Scale Up Shop programme." – said Gayani Wijethilake, Assistant Director of EDB.
"The Ceylon Chamber of Commerce is strongly invested in fostering entrepreneurship and innovation, which are key drivers of economic growth." – said Manori Dissanayake, Senior Assistant Secretary General of the Ceylon Chamber of Commerce.
"Our collaboration with 'The Scale Up Shop Program' is a testament to our commitment to nourish [Sri Lanka's] agricultural future with cutting-edge solutions and transformative opportunities." – said Prof. Ajith de Alwis, Chief Innovation Officer of the National Innovation Agency Sri Lanka.
Key partners of the Scale Up Shop Program that provided their expertise, mentorship, and unwavering support include TRACE Sri Lanka, Sri Lanka Agripreneurs' Forum, Dreamspace Academy, IEEE Innovation Nation Sri Lanka, UBL Jaffna, UBL Wayamba University of Sri Lanka, John Keells Research and Information and Communication Technology Agency of Sri Lanka (ICTA).
Press Contact
Dewmith Ekanayake
GIZ Sri Lanka
0714320575