Ocean Lanka (Pvt) Ltd, Sri Lanka's largest weft knitted fabric manufacturer, celebrated another remarkable edition of its esteemed "Sewa Abhiman" Loyalty Awards, an event that pays tribute to the unwavering commitment and dedication of its valued employees. This annual recognition event is a testament to the trust and loyalty that Ocean Lanka has earned from its workforce, reflecting the organization's profound appreciation for their dedication.
At "Sewa Abhiman," Ocean Lanka (Pvt) Ltd takes pride in acknowledging and honoring its employees who have demonstrated exceptional loyalty and service over the years. This year, a total of 187 dedicated employees were honored, with 127 employees passing the remarkable 10-year milestone and 60 employees celebrating an impressive 20 years of unwavering service. This remarkable achievement highlights the enduring commitment of Ocean Lanka's team.  
Dr. Austin Au, Managing Director of Ocean Lanka (Pvt) Ltd., expressed his sentiments regarding the event, stating, "We are humbled by the immense trust and loyalty placed in Ocean Lanka by our dedicated staff. 'Sewa Abhiman' is not just an awards ceremony, it is a celebration of the spirit that drives us forward, a spirit deeply rooted in our workforce's dedication and commitment. As we witness the growing number of employees receiving recognition for their long service, it is a clear indication of our organization's steadfast commitment to fostering a culture of loyalty and dedication."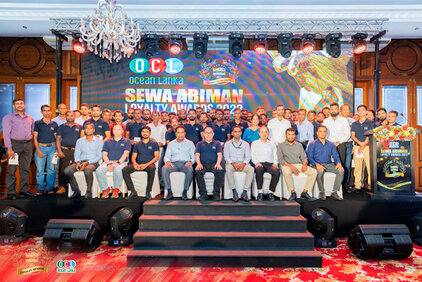 Ocean Lanka (Pvt) Ltd. remains firmly committed to the professional development and continued loyalty of its employees. The company actively allocates incentives and implements engagement activities aimed at motivating and inspiring its staff to deliver their best performance consistently.
Through initiatives like the "Sewa Abhiman" Loyalty Program, Ocean Lanka (Pvt) Ltd underscores its unwavering commitment to not only being a leader in the industry but also to be an organization that values and invests in its most valuable asset – its employees. The event serves as a platform to celebrate the long-lasting relationships forged between Ocean Lanka (Pvt) Ltd and its dedicated workforce, showcasing the company's enduring commitment to excellence and loyalty in the workplace.
As Ocean Lanka (Pvt) Ltd continues to advance in the textile industry, its focus remains on fostering a work environment that nurtures talent, dedication, and unwavering loyalty among its employees.
About Ocean Lanka
The Company was established in 1996, with over 25 years of experience in producing high-quality, world-class fabrics for renowned international brands globally. The Company is a joint venture between Hong Kong-based Fountain Set (Holdings) Limited and local apparel giants Hirdaramani Group and Brandix Lanka Limited and stands out as the first-ever manufacturer within the textile and apparel industry of Sri Lanka to come into system partnership with Bluesign.