Online shopping has become a global trend and an integral part of many people's lives. Both sellers and customers have identified it to be very convenient, as it provides the luxury of ordering items to one's doorstep and running an e-commerce store at home. Online shopping has moved beyond merely a means of shopping to become a lifestyle and people around the world have embraced it, stereotyping it as E-commerce. E-commerce brings a host of advantages like reducing operational costs from a business point of view and offers a wholesome experience to customers through time-saving, discounts, monthly offers such as Black Friday, wide range of products to choose from and many more. On the other hand, online shopping has facilitated individuals and entrepreneurs to start a self-business from the comfort of their homes. Many people are turning towards online selling as it offers a virtual shop of their own where they can display their goods that is open on 24 x7 x 365 days.
Sri Lanka is no stranger to e-commerce with Daraz emerging as Sri Lanka's biggest online shopping store which offers an endless collection of products from diverse categories ranging from electronic items to home appliances, fashion and beauty, groceries and many more. Daraz also offers a platform for sellers to reach to a wider audience and many entrepreneurs and individuals are thriving under Daraz selling tools. Now with Daraz selling tools, sellers have the opportunity to respond to growing customer demands and commence a self-business of their own.
Following are excerpts of an interview with Kavan Marambe, Category Head – Electronics at Daraz where he talks about online shopping in Sri Lanka.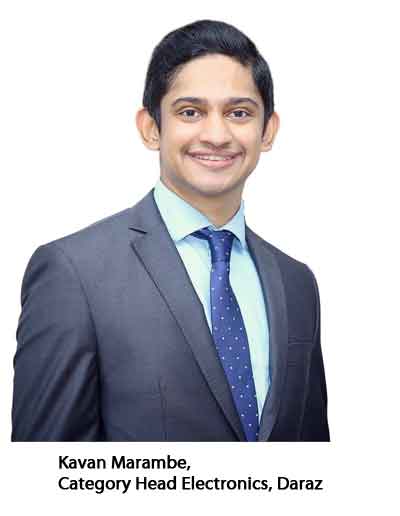 Q. Daraz is a popular online shopping store in Sri Lanka, what are the major highlights of its recent success?
A. Daraz has come a long way from its inception in 2012 to reach to the level where we are at present. As the leading online shopping mall in Sri Lanka, our aim is to deliver the best customer experience to all customers across the island, replicating countries like China where 60-65% shopping is done online. One highlight of our recent success is the November 11.11 campaign which recorded a groundbreaking Rs. 850 million sales. Daraz app has played a massive role in facilitating both sellers and buyers enabling them to easily carry out transactions. We offer innovative mechanisms such as mega deals, flash sales and ''Just for you'' modules which identifies customers' desired products through Artificial Intelligence, all of which cater to enhancing user experience. Customer Satisfaction is our major focus and we are always committed to deliver the best possible experience.
Q. What are the challenges you face and how do you overcome them?
A. We identify payment methods as one challenge as most of the buyers prefer cash payments due to lack of trust in digital payments which can be overcome by conveying the trust on digital payments and we are certainly working on that. Another challenge we faced was implementing logistics as we deliver goods to all parts of the country. As of now, we have established 50 logistic hubs around the island to streamline delivery processes. In fact, "Dex" Daraz's in-house logistics arm is the largest courier network in Sri Lanka.
Through our "Daraz Stores" initiative we enable traditional brick & motor stores sell our full portfolio to their customers offline. Partnering with traditional sellers is paramount and we have invested heavily on strengthening Daraz's seller network. With Daraz's seller tools, we provide a perfect platform for emerging sellers to enter the online shopping space.
Q. What are the top selling products at Daraz?
A. Buyers have placed huge trust in us for warranties and the authentic products we offer. Daraz mall, our premier shopping channel, is home to a wide range of major brands and products meeting almost all customer needs. One of the major hits at Daraz are the consumer electronics and Huawei is a brand which is placed among top selling products. Buyers have shown a huge interest on Huawei devices for its innovative offerings and unveiling of new products regularly to keep the customers interested. We have identified Huawei as a revolutionary brand and we look forward to partnering with them going forward.
Q. As you stated Huawei is a top performer at Daraz, what is your opinion on Huawei's progression in recent years?
A. It is pleasing to see a brand like Huawei challenging the world with innovations. Huawei is currently at the forefront of innovations by being the first to research and come up with latest technologies. One reason for its success is the market awareness and putting up Smart devices to suit both mid-range and up market.
Q. Huawei recently unveiled its own mobile services, what are your thoughts on this expansion?
A. This is a welcome measure and a timely one. I believe many tech enthusiasts are waiting to embrace this change as they would dearly love to see a tech giant like Huawei challenging the mobile eco-system which was dominated by two players. Huawei App Gallery further optimizes its chances of reaching out to a wider audience as it offers a new base for entrepreneurs and businesses to launch their apps and be recognized around the world. This initiative by Huawei will positively impact the overall mobile services market.
Q. What are your future plans?
A.. This introduction provides a new platform for us to partner with Huawei and we look forward to growing our partnership with them. At Daraz we will continue to strengthen our leading logistics and online platform backbones while offering the cutting-edge of technology to all Sri Lankans.
Q. Finally, What advice do you have for E-commerce stores and sellers?
A. Daraz being the leader in navigating the online shopping space, we encourage sellers to partner and develop with us. We are ready to offer our platform and industry leading online selling tools, to all sellers and stores interested in selling online. At Daraz we are committed to deliver the best possible shopping experience to our customers and are heavily invested in supporting our sellers achieve their goals.