3 days of special discounts from 26th to 28th June
SINGER, the country's premier consumer durables retailer recently launched its new website in order to provide an optimal user experience to its customers through www.singer.lk. This yet again replicates SINGER's commitment in serving its customers by enabling a smooth and convenient engagement. SINGER continues to stay true to its brand promise and expands its presence in the world of E-commerce.
The new platform has a responsive design that works on any device seamlessly. It provides faster and a convenient browsing experience to the users which is of utmost importance when navigating the digital space. The website incorporates a simplified, swift and agile purchasing system that enables users to easily place an online order while scrolling through their favourite products. The new website is designed to help each customer offering a unique online experience facilitating multiple purposes such as product browsing, product purchasing, order placement, an ease in checkout process and secured payment gateways.
Celebrating this milestone achievement, SINGER will be offering special discounts up to 20% on a wide range of products during 26th, 27th and 28th of June 2020, marking the re-launch of the website.
"SINGER is always striving to build a lifelong relationship with our loyal customers enabling them to fully embrace an unmatched user experience together with our strong service focus. Our newly launched website will facilitate the ever increasing e-commerce buyers, which is expected escalate rapidly in the days to come'', shared Mahesh Wijewardene, Group CEO of SINGER Sri Lanka PLC.
The website is hosted in a cloud providing a fast, flexible user experience and its traffic will be easily manageable due to its high scalability options.
"The new website is on par with the facilities offered through prominent e-commerce websites in the world. This allows us to present our product portfolio in the digital space with industry leading standards to our ever-increasing customer base. The virtual store brings more convenience to the users who will be welcomed with special online offers and a simple user interface that fast-track product purchases", said Shanil Perera, Marketing Director of SINGER Sri Lanka PLC.
SINGER is at the forefront in offering its consumers a wide range of top quality international brands, engaging with its consumer base through the largest distribution network in Sri Lanka with over 430 sales outlets and 2800 dealers spread island wide and an equally established after sales service network. SINGER's product portfolio expands up to 600 electronic items and 1200 home appliances from more than 50 internationally renowned brands.
ENDS
Photo Caption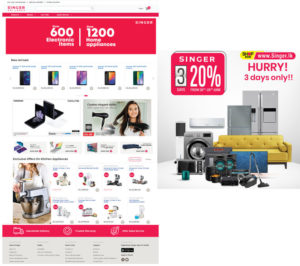 SINGER offers up to 20% discounts on a range of products marking the new website launch