Emerald, Sri Lanka's leading menswear brand, once again dazzled fashion enthusiasts with their latest AW23 showcase, "EVOLUXE," a grand fashion spectacle that redefined the essence of luxury and style. Held recently at the opulent Waters Edge, The Grand Ballroom, the event was a testament to Emerald's commitment to pushing the boundaries of fashion innovation.
The theme, 'EVOLUXE,' was a captivating fusion of evolution and luxury, showcasing how the perception of opulence has evolved over time. The event explored the idea that true luxury today encompasses not only extravagance but also ethical considerations, innovation, and uniqueness. From traditional opulence to contemporary minimalism, 'EVOLUXE' celebrated the dynamic journey of luxury in the modern world.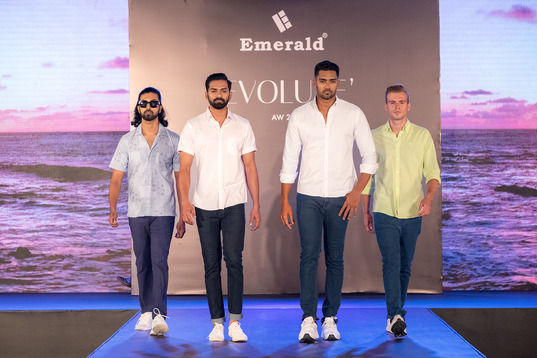 Ahmed Ikram, Chief Business Officer of Emerald, commented on the fashion show and said, "Emerald, the epitome of sartorial excellence, is honored to have hosted 'EVOLUXE' a fashion extravaganza that redefined luxury. The passion and creativity exhibited by our design team were truly awe-inspiring. This event underlines our unwavering commitment to pushing the boundaries of fashion and setting new standards for elegance and sustainability. 'EVOLUXE'' is just the beginning of our journey to redefine luxury and embrace innovation in menswear. We extend our heartfelt gratitude to all our stakeholders, from our dedicated team to our esteemed guests and partners, for making this event a resounding success."
The fashion show consisted of ten stunning segments, each meticulously designed to cater to the diverse tastes of Emerald's clientele. Among the highlights was the "Fun in the Sun" collection, a vibrant blend of colors and unrivaled comfort that caters to the young and adventurous. Crafted from 100% cotton, this collection features T-shirts and Polos, ensuring that young boys can embark on their outdoor adventures in style. The fashion show also unveiled "Tee-Style Sensation," a premium collection for those seeking the perfect fusion of comfort and urban sophistication. Classic Polos in this range offer moisture-wicking properties and a natural stretch, guaranteeing both a cool look and feel. For everyday elegance, "The Everday Tee" is your ultimate choice. "Authentic Denim" was another showstopper, redefining the denim experience with Japanese denim fabrics, offering superior fit, comfort, and mobility while preserving an authentic denim style.
In the corporate setting, the "Timeless Fil-a-Fils" collection takes center stage, offering an impressive range of 40 colors for dress shirts. While they may seem traditional at first glance, these shirts are far from generic. Dorned with classic collars and a distinctive column of buttons, they exude distinction, elevating your corporate style with timeless charm and modern appeal. For young gentlemen who appreciate style and comfort, "Dapper Dudes" from the 'Emerald Junior – Shirts' collection provides a journey of youthful sophistication. Seamlessly blending modern trends with classic styles, ensures that they look their best, whether it's for a family celebration or a school event.
Emerald's commitment to versatile fashion extends to utility and comfort for active individuals with the "Utilitech – Functional Fashion" collection. Experience functional flexibility like never before with a range of 'Utilitech' wear. The water-repellent, 4-way stretch material ensures comfort and wearability, offering three variations: 'Tech-chinos', versatile trousers with a tech-spin that stay looking fresh, 'Active Jeans,' super-comfy and lightweight jeans that add a stylish touch and slimmer look, and 'Wind Walker,' the range that keeps you comfortable in various weather conditions while taking a jog or staying active.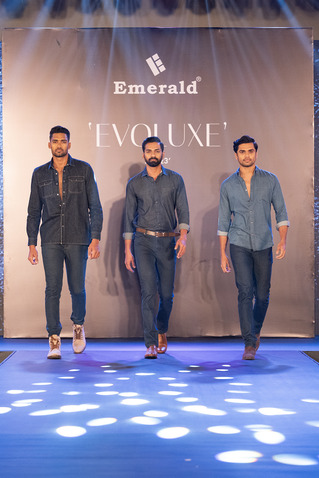 Additionally, "Stylized Bamboo," known for its eco-friendliness and exceptional softness, is now available in the Sri Lankan Market from 'Emerald.' This collection embodies a unique blend of elegance and comfort, making it suitable for formal occasions and business settings. "Casual Communique" from 'Emerald Active' is designed to make a style statement, offering high-quality smart casual wear that pairs perfectly with chinos or denim, detailed with elements that pop and stand out.
With the "Work-Pop" collection Emerald is the first to introduce prints into a formal range for men, adding a touch of variation through textured yarns and dobby motifs, ensuring that you stand out in the corporate setting. These new-age prints are subtle with a touch of class, guaranteed to make you stand out, whether at work or during after-work excitement. Lastly, "Morphing Forms" celebrates artistic freedom with a wide array of unique prints, allowing individuals to embrace their individuality and express themselves through abstract artistry in the workplace.
The 'EVOLUXE AW 23' fashion show primarily targeted dealers, offering them a first look at the upcoming seasonal collection and the opportunity to make bookings for the season ahead. Emerald also extended invitations to key figures & celebrities in the fashion industry who graced the event with their presence.
Emerald sets new benchmarks in men's fashion, blending tradition with innovation and sustainability, continuing to provide all categories cementing its place as Sri Lanka's leading menswear brand. 'EVOLUXE' was a resounding success, a reflection of Emerald's dedication to evolving and redefining the meaning of luxury in the ever-changing world of fashion.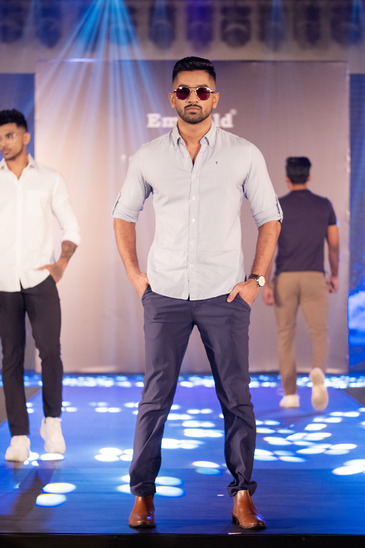 END