'Clogard Chooty', a leading kid's oral care brand, won the Silver award for the 'Best New Entrant Brand of the Year' at the SLIM Brand Excellence Awards 2021 recently. Since its launch, Clogard Chooty has become every mother's preferred choice of toothpaste to which she entrusts her child's oral hygiene. Clogard Chooty is specially designed for the oral care needs of children as it utilizes a colorful, fruity gel formula with no added sugar for easy cleaning, cavity protection and strong teeth.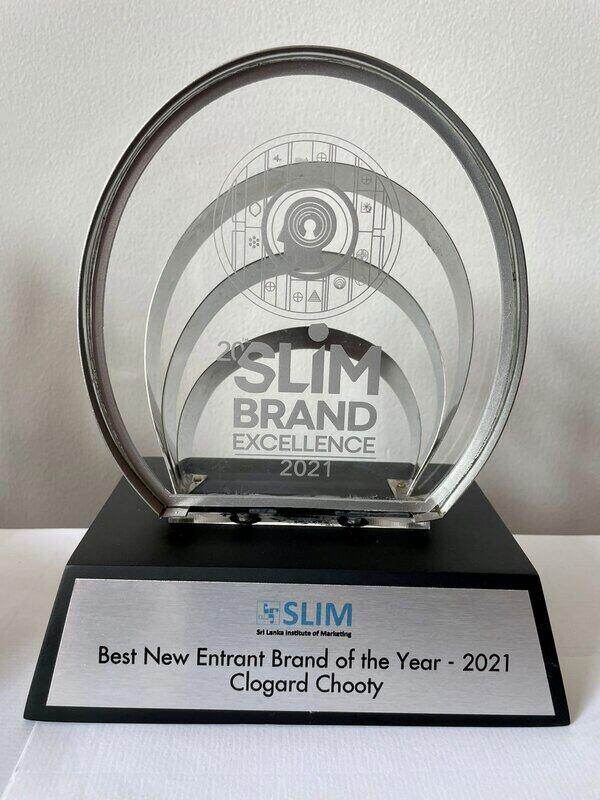 The popular toothpaste has won the hearts of parents because of its unique & fun formulation and visually appealing packaging which encourages the daily chore of brushing teeth. This routine practice has been turned into a fun time for children while taking the pressure off parents to persuade kids on the importance of good oral hygiene. In keeping with their reputation for innovation, Clogard identified the current gap in the kid's toothpaste market and played a major role in addressing the market imbalance by introducing Clogard Chooty in the delicious flavours of strawberry and mango.
Commenting on the accolade, Ayesha Edirisinghe, Brand Executive of Clogard Chooty said, "We are thrilled to be awarded Silver in the 'Best New Entrant' category at the 2021 SLIM Brand Excellence Awards. Winning an award on this prestigious corporate platform is a testament to our vision to fill a long-felt need in the market for a kids' toothpaste that encourages and motivates kids to develop the habit of brushing daily and maintaining good oral hygiene. Our brand-building strategy was to put forth a brand that addresses a market gap for a product that uplifts oral hygiene of Si Lankan children, and also exudes an exciting brand personality, thus creating a loyal base of users consisting of young kids and families. The brand mascot, the Chooty Lena, a firm favourite of kids in Sri Lanka, always inculcates the habit of brushing teeth.
Tapping into cultural insights to communicate the importance of oral care, Clogard Chooty has devised a fun brand mascot, Chooty Lena, a squirrel, strongly connected with oral hygiene in Sri Lanka's folklore. Parents often imply this folklore when their child loses their first tooth or baby teeth, that a squirrel will take the fallen tooth and magically grow a new tooth overnight, making the child and parents connect with the brand closely
Parents prefer Clogard Chooty because it has already been certified by SLSI, which reflects its high product safety and quality standards. The product is available at leading supermarkets, pharmacies, Baby Care stores, selective retail outlets and can also be purchased at the Hemas E-store https://hemasestore.com/brand/clogard/
Since its introduction in 1992, Clogard has transformed to be a total oral care solution at Sri Lankan households protecting the entire family against cavities, promoting healthy gums and alleviating bad breath. Clogard is the first oral care brand to be endorsed by Sri Lanka Standards Institution.
Photo Caption
The Clogard Team with the Award
About Hemas Consumer Brands
Hemas Consumer Brands, the leading Sri Lankan manufacturer of Home and Personal Care products, has won consumer hearts over the years through strong purpose-led brands and progressive sustainability practices. Hemas Consumer Brands strive to bring healthful living and personal care solutions to life through its portfolio of world-class products. They have garnered acclaim for creating superior Market-leading and Award-winning products by uncovering local insights which are nourished by growth-inspired innovative teams. They touch the lives of the communities around the island by creating meaningful offerings, cultivating trusted partnerships, and championing a more environmentally friendly inclusive world.
ENDS