HUTCH, Sri Lanka's preferred choice for mobile broadband services has partnered with the leading telemedicine service provider oDocbringing24/7 online video GP consultation services directly to the mobile of every Hutch subscriber within three minutes of booking. oDoc real-time virtual consultations minimize the need to physically be present at hospitals/clinics to get medical advice reducing the risk of catching COVID thereby assisting in the country's pandemic prevention measures.
With Hutch-oDoc service, customers will be protected during the pandemic from unnecessary exposure to infections by reducing time spent at hospitals and clinics. Particularly indispensable for patients or caretakers of patients in the vulnerable populations: senior or immunocompromised who may not feel comfortable visiting hospitals/clinics. Customers will no longer need to waste time travelling or inside waiting rooms for physician channeling and they do not need to rush to hospitals with their infants on minor ailments.
Customers living in remote areas with limited access to medical services can also make use of this service to access quality healthcare from Colombo whilst eliminating their medical related travel costs to Colombo.
The milestone partnership brings oDoc's top quality virtual video and audio GP consultation services at a very affordable subscription rate of only Rs. 99+taxes per month. Through this service, Customers can avail of unlimited medical consultations at any time of the day from the comfort of their homes. Hutch subscriber can subscribe to this service via dialing *6363#.
Customers that prefer over the phone consultations may also request a callback using the *6363# USSD code. Once requested, a GP will call the user within just three minutes.
oDoc physicians are authorized to issue over the phone prescriptions after detailed online medical consultations of the customer. In a matter of few minutes, customers can access over 600 doctors from the new Hutch-oDoc service.
Having launched the island-wide telemedicine service together with the Ministry of Health (MoH) and Information and Communication Technology Agency of Sri Lanka (ICTA), oDoc's mission is to uplift national healthcare. oDoc's partnership with HUTCH enables it to provide medical services to a wider section of society by leveraging HUTCH's mass subscriber-base that is continuously offered with latest high quality value added services.
Commenting on the new partnership, HUTCH CEO, Thirukumar Nadarasa said: "HUTCH is a socially responsible company that addresses the concerns of the public. Our fullest support is given to such initiatives of taking affordable virtual healthcare to all homes across the nation. Telemedicine has evolved to be a mainstay in healthcare and has become even more critical in the face of COVID19. We at HUTCH are proud to partner with oDoc, a leading telemedicine service provider, to avail easy access healthcare to our loyal subscribers."
CEO at oDoc Heshan Fernando said: "At oDoc, we focus on providing everyone a means to prioritize their health. With over 300,000 oDoc users and 3500 app downloads per month, we are the pioneers in Sri Lanka's telemedicine at present. The American Medical Association has confirmed that up to 75% of all physician visits can be handled via video calls, and we are pleased that we can leverage this latest trend. Over 450 doctors who specialize in 50 different areas have joined us in this groundbreaking cause. Having such a service at patients' disposal frees them of their hassle of frequent hospital visits and bringing huge relief to them."
Photo Caption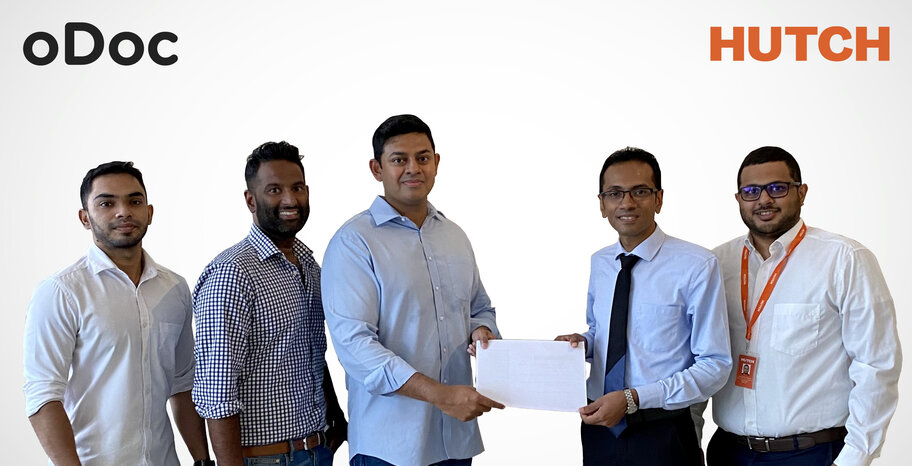 From left oDoc Head of New Business Development and Sales Nabeel Milhan, Co-Founder & CTO Keith De Alwis, Co-Founder & CEO Heshan Fernando and HUTCH General Manager Marketing Hamdhy Hassen, AGM Partnerships & Alliances Firaz Markar